COMMERCIAL DRYING & DEHUMIDIFICATION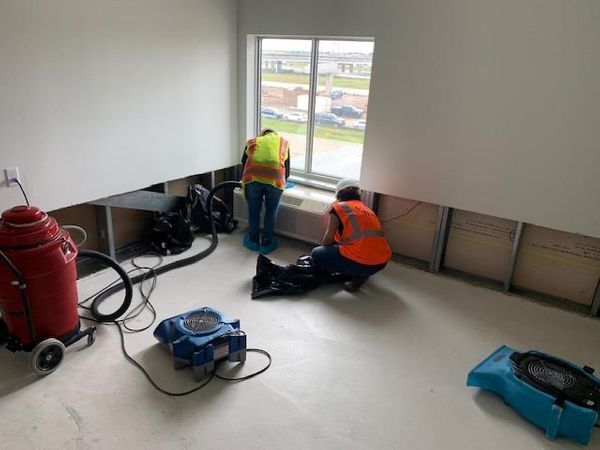 EXPERT DRYING & DEHUMIDIFICATION SERVICES
After your facility has experienced flooding or water damage of any kind, it is important that you dry your commercial property and have the excess moisture removed as soon as possible. Our team of experts does this through an effective dehumidification process. Delaying the process could lead to mold and structural damages that affect employees and your business.
With twenty five years of experience in water damage mitigation, Cotton Global Disaster Solutions delivers top quality service and commercial-grade equipment to protect your facility now and in the future.
For immediate help with water damage mitigation, CALL 624.143.9827
THE COTTON DIFFERENCE
24/7 Situational Awareness

Pre-loaded Fleet for Immediate Dispatch

Trusted Global Partner in Restoration, Disaster Recovery, and Construction

Adhere to OSHA Standards, Along with Local, State, and Federal Regulations

Commercial-grade Equipment and Innovative Thinking
Extracting the water after a disaster event is the first of many steps in the water damage mitigation process. Standing water evaporates and quickly absorbs into porous surfaces or materials in your building. Without adequate attention and powerful technology, the absorbed moisture in your walls, flooring, and HVAC system could quickly produce mold and, over time, lead to health issues or structural failure.
Trusting Cotton with every phase of the water damage mitigation process will ensure your business receives the prompt and proper care it deserves.
THE DRYING & DEHUMIDIFICATION PROCESS
Upon arriving at your facility, Cotton will immediately assess the damage and design a plan of action that minimizes business interruption.
Crews will then begin the water extraction process by using commercial-grade equipment that absorbs, drains, pumps, or vacuums the affected area.
Using air movers, dehumidifiers and/or desiccant drying techniques, Cotton will remove excess moisture in the air and dry porous surfaces in the affected areas.
Throughout the procedure, Cotton will consistently monitor the moisture levels to ensure every area of your building returns to its dry standard. This tried-and-true process will eliminate immediate threats caused by water intrusion and prevent potential damages in the future, so that you and your employees can continue operating in a safe environment.
FREQUENTLY ASKED QUESTIONS
+ WHAT IS THE DIFFERENCE BETWEEN STRUCTURAL DRYING & DEHUMIDIFICATION?
Structural drying and dehumidification both play essential roles in the water damage mitigation process, but each performs a different task.
Structural drying is the process of removing moisture from materials.
Dehumidification consists of removing moisture from the air.
+ WHY IS IT IMPORTANT TO GET STRUCTURAL DRYING AND DEHUMIDIFICATION SERVICES DONE AS SOON AS POSSIBLE?
Structural drying and dehumidification are necessary after a disaster because they extract moisture that could be hiding behind walls, under flooring, and in your HVAC system. If left untreated, these moist areas could lead to mold or damaged materials that put your structure in danger.
+ HOW LONG IS THE WATER DAMAGE RESTORATION PROCESS?
The water damage restoration process varies and the timeline is dependent on the extent of the damage. Speak to a Cotton representative today for a prompt assessment and estimate.
ADDITIONAL COTTON ASSISTANCE
Once the water has been cleared, your business facility might require some structural repairs or renovations. Cotton offers professional construction and roofing services to repair damages caused by flooding or other water-related incidents. Business operations don't have to stop while repairs are being done. Cotton Logistics and Cotton Culinary offer reliable, temporary solutions that allow you to continue serving your customers, while we work on restoring your facility.