COMMERCIAL WATER & FLOOD DAMAGE RESTORATION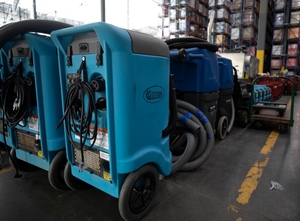 EXPERTS IN COMMERCIAL WATER DAMAGE MITIGATION & RESTORATION SERVICES
Water damage can come in different forms and for various reasons. Some of the most common causes of commercial water damage are weather-related floods, burst or leaking pipes, roof leaks, appliance ruptures, and fire-related incidents. Whatever the cause may be, one thing is true — the effects of water and flood damage in your commercial property can have an immense impact on your business operations. If you can't open for business, then you can't assist your customers and earn revenue.
We are proud to provide water restoration services for commercial businesses, helping to recover and clean up after any water or flood damage.
For immediate help with water damage and flooding, CALL 624.143.9827
THE COTTON DIFFERENCE
24/7 Situational Awareness

Pre-loaded Fleet for Immediate Dispatch

Trusted Global Partner in Restoration, Disaster Recovery, and Construction

Adhere to OSHA Standards, Along with Local, State, and Federal Regulations

Commercial-grade Equipment and Innovative Thinking
Cotton International Solutions (CIS) water damage restoration experts have more than 25 years of experience and are available 24 hours a day, 365 days a year to help get your business back up and running as soon as possible. Our experienced staff will expertly assess the damage and determine a critical path for the recovery of all affected property.
24-Hour Emergency Service

Rapid Response and Mobilization

Water Damage Restoration

Drying and Dehumidification

Desiccant/Refrigerant Drying

Anti-Microbial Product Applications

Cleaning and Decontamination of Heating and Air Conditioning System

Wet Document and Vital Records Recovery and Restoration, Including Freeze-Drying Services

Removal and Disposal of Wet Materials

Daily Monitoring and Recording of Moisture Levels

Content Cleaning, Manipulation, and Inventory

Emergency Power

Electronics and Data Recovery
WHAT TO DO IF YOUR BUSINESS HAS EXPERIENCED WATER DAMAGE
Identify the source and shut it off to eliminate the risk of further damage

Contact Cotton immediately to extract excess water and mitigate the water damage

Do not enter rooms with standing water until electricity has been turned off

Once it's safe to enter, remove personal items, important documents, and furniture from the affected area

Be sure to wear protective gear, such as a mask, to avoid contamination

Monitor the affected area to keep unauthorized personnel from entering
FREQUENTLY ASKED QUESTIONS
+ WHEN A COMMERCIAL PROPERTY DAMAGE EVENT HAPPENS, SHOULD I CALL MY INSURANCE FIRST?
Your insurance company prefers you call a commercial restoration company like Cotton International Solutions to begin water cleanup and fix your water damage as quickly as possible. If possible, turn off any water valves you can access.
Call a plumber to fix the leak, if applicable, but the faster our crews arrive, the more damage we can help prevent in your commercial property. You should still call your insurance company, but don't wait for an adjuster to arrive before beginning water damage mitigation. If you plan to file a claim, they'll need an assessment of the damage and restoration estimate. Calling Cotton International Solutions speeds up the process.
+ HOW LONG IS THE WATER RESTORATION PROCESS?
This depends on the severity and category of the disaster damages. If the area was supersaturated or if the water was contaminated, that could increase the time it takes to restore your property back to its pre-event state.
+ CAN WATER DAMAGE CAUSE MOLD TO GROW?
Absolutely. Water is one of the necessary ingredients needed for mold to grow. If you have water damage in your business facility, and you don't extract the water and properly dry the affected area in time, you could have mold growth within 48 hours.
+ WHAT HAPPENS AFTER MY BUSINESS OR PROPERTY IS DRY?
After the damage is mitigated, repairs may be necessary. We are a full-service contractor and can make the necessary repairs for you, leaving your business or commercial property in excellent condition when we leave.
+ CAN COTTON INTERNATIONAL SOLUTIONS HANDLE THE PROJECT FROM BEGINNING TO END?
Yes, Cotton International Solutions can manage your water damage, fire damage, mold damage, and any restoration or construction project you might have in your business or commercial property from beginning to end.
ADDITIONAL COTTON ASSISTANCE
Once the water has been cleared, your business facility might require some structural repairs or renovations. Cotton GDS offers professional construction and roofing services to repair damages caused by flooding or other water-related incidents. Business operations don't have to stop while repairs are being done. Cotton Logistics and Cotton Culinary offer reliable, temporary solutions that allow you to continue serving your customers, while we work on restoring your facility.