EMERGENCY DISASTER RESPONSE & RESTORATION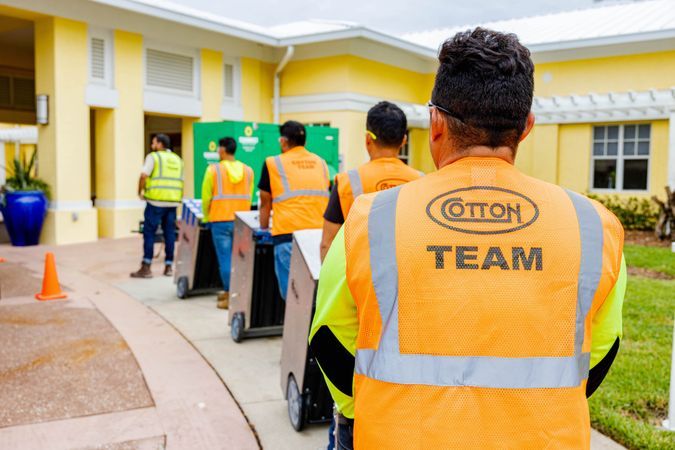 24-HOUR EMERGENCY RESPONSE CREWS ARE READY
Property damages or loss of a business facility due to a disaster can result in business interruption, which leads to lost revenue, unexpected expenses, and the inability to contribute to the local economy. If your business has ever been impacted by a tornado, hurricane, earthquake, or another disaster —natural or man-made— then you've dealt with the painful aftermath and know it's important to have a trusted partner through the recovery process.
After 25 years in the industry, Cotton International Solutions (CIS) has earned the reputation of providing safe, efficient, and customized disaster response and restoration solutions for all types of incidents, large and small. Cotton is your one source for total emergency response and recovery.
For immediate help with storm and disaster recovery, CALL 624.143.9827
THE COTTON DIFFERENCE
24/7 Situational Awareness

Pre-loaded Fleet for Immediate Dispatch

Trusted Global Partner in Restoration, Disaster Recovery, and Construction

Adhere to OSHA Standards, Along with Local, State, and Federal Regulations

Commercial-grade Equipment and Innovative Thinking
Cotton GDS is headquartered in Houston, Texas, with offices and building partnerships in North America and abroad to provide quick disaster response. As soon as a disaster occurs, Cotton GDS begins reaching out to clients and partners and assigns crews to arrive on-site and assess the damage. Some of the most common disaster events include tropical storms, hurricanes, hail, tornadoes, earthquakes, landslides, and severe winter weather.
NOTABLE DISASTERS COTTON HAS RESPONDED TO:
Tropical Storm Allison, Houston, TX — 2001
Mudslide, Jamaica — 2005
Hurricane Katrina, New Orleans, LA — 2005
Hurricane Wilma, Cancun, MX — 2005
MC252, Gulf of Mexico — 2010
Hurricane Isaac, New Orleans, LA — 2012
Superstorm Sandy, New York, NY — 2012
Hurricane Odile, San Jose del Cabo, MX — 2014
Hurricane Matthew, Savannah, GA — 2016
Hurricane Harvey, Houston, TX — 2017
Hurricane Irma, Florida — 2017
Hurricane Maria, Puerto Rico — 2017
Hurricane Florence, The Carolinas — 2018
Hurricane Michael, Panama City Beach, FL — 2018
Hurricane Dorian, Bahamas — 2019
Tropical Storm Imelda, Beaumont, TX — 2019
Tornado, Nashville, TN — 2020

Hurricane Laura, Southwest Louisiana – 2020

Hurricane Delta, Southwest Louisiana – 2020
Hurricane Ida, Southeast Louisiana – 2021
COTTON'S DISASTER RESPONSE SERVICES
24-Hour Emergency Services
Rapid Response and Mobilization
Water Damage Restoration
Fire Damage Restoration
Mold Remediation
Catastrophe Management
Structure Cleaning
Deodorization
Dehumidification
Desiccant/Refrigerant Drying
Anti-Microbial Product Application
Cleaning and Decontamination of Heating and Air Conditioning System
Wet Document and Vital Records Recovery and Restoration, Including Freeze Drying Services
Removal and Disposal of Wet Materials
Daily Monitoring and Recording of Moisture Levels
Content Cleaning, Manipulation, Inventory, and Storage
Pack-Out, Moving, and Storage
Emergency Power
Electronics and Data Recovery
WHY CHOOSE COTTON
During a disaster, Cotton utilizes turnkey services to help your business through the recovery process from beginning to end. There's no need to hire different contractors when Cotton can clean up debris, handle the mitigation, remediation, and reconstruction of your property until it is returned to its pre-event state or better.
Furthermore, the company's 24-hour vigilant team, The Watch, monitors weather activity and disasters worldwide that could impact clients and their communities. This ensures that Cotton, its partners, and clients receive proper notice of potential severe weather and can plan accordingly. In the event of an unpredictable catastrophic event, such as a man-made disaster, The Watch immediately notifies Cotton personnel, allowing for immediate disaster response and the rapid mobilization of crews and equipment.
FREQUENTLY ASKED QUESTIONS
+ HOW FAST CAN COTTON INTERNATIONAL SOLUTIONS RESPOND TO A DISASTER AT A COMMERCIAL PROPERTY?
Cotton International Solutions is committed to being there for your business 24/7. Its strategically placed field offices, pre-loaded fleets, and relationships with first responders around the world allow CIS to respond to disaster events quickly and efficiently.
+ IF A DISASTER STRIKES MY BUSINESS OR COMMERCIAL PROPERTY, SHOULD I CALL MY INSURANCE FIRST?
With more than 20 years of experience in the industry, Cotton recommends getting a professional restoration contractor on site as fast as possible to secure the scene and board up your property after the disaster. Your insurance company wants you to be proactive when it comes to dealing with damage to your commercial property and delaying your call to a professional restoration contractor can cause more damage.
+ HOW LONG DOES THE DISASTER RESTORATION PROCESS TAKE AFTER AN EMERGENCY?
Cotton works around the clock to get your business back to its pre-event state as quickly as possible. However, the exact restoration timeline will vary depending on the severity and category of the damages. Once on site, your Cotton Project Coordinator will assess the damage and provide you with a customized timeline.
+ IS IT SAFE TO ENTER MY COMMERCIAL PROPERTY OR BUSINESS AFTER A FIRE?
CIS strongly advises you to avoid re-entering your business or commercial property after a fire. Beyond the risk of smoke inhalation, fire and smoke can weaken a building, increasing the possibility of your property collapsing and causing injuries.
+ CAN COTTON GDS HANDLE THE PROJECT FROM BEGINNING TO END?
Yes. Cotton is proud to offer turnkey services, which allow for the completion of a project from beginning to end. These services include water mitigation, fire and smoke restoration, mold remediation, construction, roofing services, and more. Visit our services page to learn more.
ADDITIONAL COTTON ASSISTANCE
Following a disaster, your business might require extensive repairs to the roof and building's structure, but that doesn't always mean long-term business interruption. In addition to construction and roofing services, which help the exterior part of your business, Cotton Logistics and Cotton Culinary offer temporary facilities and catering services that allow your business to move forward with operations, so you may continue serving your communities.