COMMERCIAL MOLD REMEDIATION & CLEANING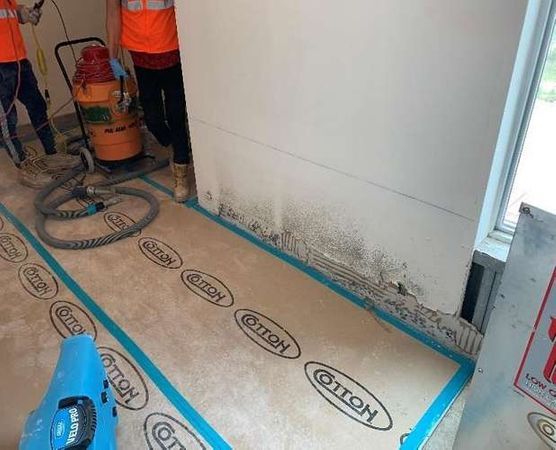 PROFESSIONAL MOLD REMOVAL SERVICES FOR YOUR BUSINESS
Mold is a type of fungus that thrives in moisture and reproduces through unnoticeable spores that travel through the air. If present within a commercial facility, mold spores can cause unpleasant odors, respiratory issues, and allergic reactions.
With thousands of mold species around the world, some invisible to the naked eye, you need an experienced remediation partner you can trust. For 25 years, Cotton Global Disaster Solutions has delivered mold remediation and cleaning services to businesses of all sizes, effectively and efficiently.
For immediate help with mold removal and remediation, CALL 624.143.9827
THE COTTON DIFFERENCE
24/7 Situational Awareness

Pre-loaded Fleet for Immediate Dispatch

Trusted Global Partner in Restoration, Disaster Recovery, and Construction

Adhere to OSHA Standards, Along with Local, State, and Federal Regulations

Commercial-grade Equipment and Innovative Thinking
Whether seen or unseen, mold breeds in rooms and materials that contain a lot of moisture. Additionally, certain scenarios increase the possibility of fungus, including leaky pipes, plumbing issues, storm damage, and poor ventilation. If your business has experienced any of the above, it's best to call the experts who can quickly assess the damage and treat the affected areas.
UNDERSTANDING THE MOLD REMOVAL PROCESS
As always, Cotton GDS will work with your team to deliver results, while minimizing business interruptions. Using commercial-grade equipment and proven techniques, Cotton GDS will complete the following mold removal service:
Identify the cause and assess the damage to create a course of action.
Properly contain the affected area to keep your guests, tenants, and employees safe.
Utilize commercial-grade equipment to regulate and control the facility's moisture levels.
Clean and decontaminate the affected area and surrounding contents.
Complete selective demolition to remove damaged materials.
Apply antimicrobials to help prevent future mold growth.
SOME OF THE MOST COMMON PLACES FOR MOLD TO GROW ON COMMERCIAL PROPERTIES ARE:
Bathrooms
Kitchens
HVAC systems
Walls
Roofs
Carpets
Furniture
Plumbing
WHY CHOOSE COTTON GDS
During a disaster, Cotton GDS utilizes turnkey services to help your business through the recovery process from beginning to end. There's no need to hire different contractors when Cotton GDS can clean up debris, handle the mitigation, remediation, and reconstruction of your property until it is returned to its pre-event state or better.
Furthermore, the company's 24-hour vigilant team, The Watch, monitors weather activity and disasters worldwide that could impact clients and their communities. This ensures that Cotton GDS, its partners, and clients receive proper notice of potential severe weather and can plan accordingly. In the event of an unpredictable catastrophic event, such as a man-made disaster, The Watch immediately notifies Cotton GDS personnel, allowing for immediate disaster response and the rapid mobilization of crews and equipment.
FREQUENTLY ASKED QUESTIONS
+ WHY IS MOLD AT A COMMERCIAL PROPERTY A CONCERN?
Mold spores inside of a building raise concerns because they weaken the air quality and cause respiratory issues. The harmful chemicals released by mold spores, when inhaled, lead to headaches, irritated skin, allergic reactions, and asthma symptoms. People with allergies, asthma, or compromised immune systems are impacted the most by mold spores.
+ HOW LONG DOES THE MOLD REMOVAL & REMEDIATION PROCESS TAKE?
The mold removal and remediation process could last a few days, but the exact time frame depends on several factors, such as: how much mold is present, where the mold is growing (behind walls, etc.), and the type of material(s) it's growing on. Once your remediation partner assesses the situation, they'll be able to give you an accurate timeline.
+ HOW LONG DOES THE DISASTER RESTORATION PROCESS TAKE AFTER AN EMERGENCY?
Cotton works around the clock to get your business back to its pre-event state as quickly as possible. However, the exact restoration timeline will vary depending on the severity and category of the damages. Once on site, your Cotton Project Coordinator will assess the damage and provide you with a customized timeline.
ADDITIONAL COTTON ASSISTANCE
If a spill or hazardous material damages your building's infrastructure or roof, Cotton Construction and Cotton Roofing can perform the environmental repairs and restore your facility to its pre-event state. During the restoration process, business operations can continue with our turnkey services. Cotton Logistics and Cotton Culinary offer reliable, temporary solutions that allow you to continue serving your customers, while Cotton works on restoring your facility.