SEVERE STORM & WIND DAMAGE RESTORATION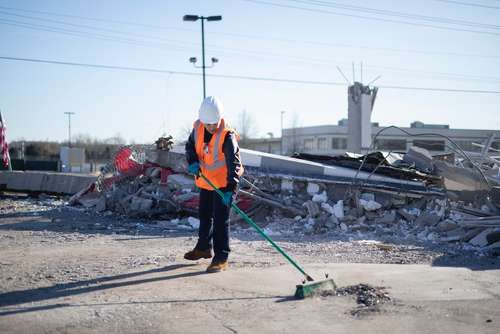 TRUSTED STORM AND WIND DAMAGE RECOVERY PROFESSIONALS
A severe storm, such as a thunderstorm, tornado, flood, hail storm, or winter storm has the power to endanger your property and force you to pause business operations. After two decades in the industry, Cotton Global Disaster Solutions has helped businesses and commercial properties around the world recover from all types of storms and knows how important it is to start the recovery process as soon as possible. Whether it's a fallen tree that's interrupted your operations, wind damage, or water damage, trust in Cotton GDS to mitigate the damage and rapidly restore your property.
For immediate help with storm repairs, CALL 624.143.9827
THE COTTON DIFFERENCE
24/7 Situational Awareness

Pre-loaded Fleet for Immediate Dispatch

Trusted Global Partner in Restoration, Disaster Recovery, and Construction

Adhere to OSHA Standards, Along with Local, State, and Federal Regulations

Commercial-grade Equipment and Innovative Thinking
With locations in the U.S., Mexico, and the Caribbean, Cotton GDS is always ready to respond to catastrophic events throughout the world. At the first sign of severe weather, crews are alerted and remain on standby until needed. With teams and equipment ready to roll out, Cotton GDS can quickly respond to your business and will work around the clock to return your property to its pre-event state.
RECOVERING FROM STORM OR WIND DAMAGE WITH COTTON GDS
Cotton GDS offers turnkey solutions that help your business before and after severe weather events. Capabilities include disaster recovery, construction, and roofing repairs.
STORM TYPES
You can rest assured knowing that Cotton GDS has the experience and resources necessary to efficiently clean up and repair the damages caused by different storms, including:
Thunderstorms and lightning, flash flooding, tornadoes, hail storms, high winds, hurricanes, Derechos, blizzards and freezing temperatures.
STORM RECOVERY & REPAIRS
Once it is safe to do so, Cotton GDS will visit your worksite to assess the damages and determine which repairs and remediation efforts need to be made. Contact us for:
Recovery Services: Moisture mapping, water extraction, dehumidification, desiccant/refrigerant drying, & HVAC decontamination.
Construction Services: Structure cleaning, emergency board-up, structural repairs, & temporary shoring.
POST-STORM EMERGENCY ROOF REPAIRS
Cotton has unparalleled experience and expertise in commercial building storm restoration, disaster response, and emergency roof repair. Following a severe weather storm, Cotton uses tarps to quickly cover your roof's damaged areas and keep your property protected before fully repairing or replacing the roofing system. Cotton specializes in partial or complete roof replacement, new roof installation, and is an approved installer and service provider of modified bitumen, silicone and acrylic coatings, metal, TPO, and all major roofing systems.
Common causes for emergency roof repairs include: hurricanes, tornadoes, Derechos, hail storms, fallen tree limbs, roof penetrations, and more.
WHY CHOOSE COTTON GDS
During a disaster, Cotton GDS utilizes turnkey services to help your business through the recovery process from beginning to end. There's no need to hire different contractors when Cotton GDS can clean up debris, handle the mitigation, remediation, and reconstruction of your property until it is returned to its pre-event state or better.
Furthermore, the company's 24-hour vigilant team, The Watch, monitors weather activity and disasters worldwide that could impact clients and their communities. This ensures that Cotton GDS, its partners, and clients receive proper notice of potential severe weather and can plan accordingly. In the event of an unpredictable catastrophic event, such as a man-made disaster, The Watch immediately notifies Cotton GDS personnel, allowing for immediate disaster response and the rapid mobilization of crews and equipment.
FREQUENTLY ASKED QUESTIONS
+ HOW FAST CAN COTTON RESPOND TO STORM OR WIND DAMAGE AT A COMMERCIAL PROPERTY?
Cotton is available 24/7 and is always ready to respond with crews and pre-loaded fleets. As soon as your call or request comes through, a Cotton Representative will reach out to begin the assessment. Once they have confirmed the details, the right crews and equipment will be sent to begin working on your business.
+ IF MY COMMERCIAL PROPERTY NEEDS STORM DAMAGE REPAIR, SHOULD I CALL MY INSURANCE FIRST?
Cotton recommends getting a professional restoration contractor on site as fast as possible to board up your property. Your insurance company wants you to be proactive when it comes to restoring your commercial property and delaying your call to a professional restoration contractor can cause more damage.
+ HOW LONG DOES THE STORM RECOVERY PROCESS TAKE AFTER AN EMERGENCY?
The recovery timeline varies depending on the severity and category of the storm damages. For example, if, in addition to roof repairs, your building also needs water damage mitigation, the process could require additional days to dry your structure and contents properly. Your Cotton Representative will provide an accurate timeline after completing an assessment of the damage.
ADDITIONAL COTTON ASSISTANCE
Following a disaster, your business might require extensive repairs to the roof and building's structure, but that doesn't always mean long-term business interruption. In addition to construction and roofing services, which help the exterior part of your business, Cotton Logistics and Cotton Culinary offer temporary facilities and catering services that allow your business to move forward with operations, so you may continue serving your communities.